Audio Transcription Services
The process of creating a written account of verbal communication is called Audio Transcription. Transcribing audio to text has been taking place for a long time. Traditionally audio transcription largely meant a written record of a person's voice, speech or courtroom proceedings. But today audio to text transcription could include meetings, movies, webinars, conferences, workshops or interviews. Audio transcription has applications from business to education. While there are software and apps available to do this, they fail to give the desired results when there is a large volume of audio data or when the work is technical in nature or when the complexity increases.
Why Avail Services of a Professional Audio Transcription Company?
Often organisations dabble with the idea of setting up an in-house transcription facility to prepare various business-related transcripts. But after much deliberations, they realise that their in-house facility would not match up to the services offered by a professional transcription company. Trained transcriptionists at the professional transcription company guarantee speed, accuracy and efficiency. Also, transcription companies provide a variety of options, they allow businesses to choose the type of professional service as per their requirements. Outsourcing your audio transcription projects is also cost-effective as you can hire professional transcribers on a contract or pay them on an hourly basis.
Audio Transcription Services Offered by SunTec.AI
With the advancement of technology, the potential uses of audio transcription have rapidly expanded. There are various types of audio transcription services, each with distinct advantages and limitations. SunTec.AI offers a variety of audio transcription services, depending upon the requirement of the project, suitable audio transcription service can be chosen.
Verbatim Transcription
In verbatim transcription, every single word, pause and non-verbal communication in the audio file is transcribed. It is also known as strict or true verbatim transcription. SunTec.AI offers verbatim transcriptions which are extremely detailed and comprehensive. Our experienced and alert transcriptionists transcribe even half-sentences like mmm, hmmm, I Know, Got it. We also ensure that none of the emotions like laughter, anger, fear, excitement are missed in the transcription. Verbatim transcription is mostly done for police investigations and court proceedings where every word or expression is important.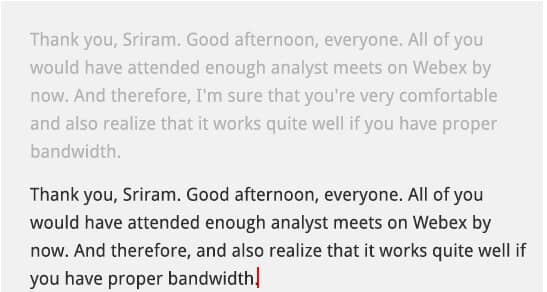 Edited Transcription
Edited transcription is also called clean verbatim transcription. In edited transcriptions, certain parts of the audio file are removed as long as it doesn't change the meaning conveyed by the audio. Like verbatim transcription even edited transcriptions are time-consuming. Transcribers at SunTec.AI are adept at differentiating between what is important in an audio file/recording and what can be omitted. Before starting the transcribing process, our transcribers first understand the meaning, purpose and flow of the audio. This ensures accuracy and quality of the transcribed work. Transcriptions of audio recordings of seminars, meetings, speeches and conferences are generally edited transcriptions.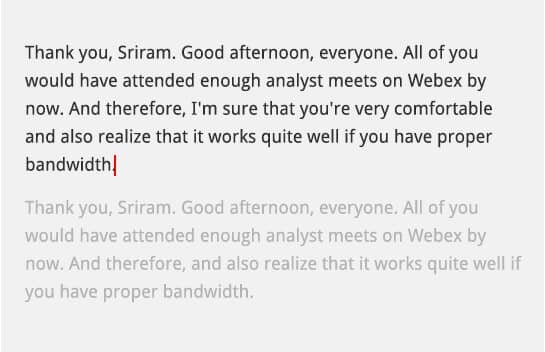 Intelligent Transcripts
Intelligent Transcripts are the intelligent or smart versions of verbatim transcripts. Intelligent transcripts make pure sense and are to the point. Unlike verbatim transcriptions, these transcriptions do not need to include the interjections, emotions, half-sentences, pauses and false starts. Working on intelligent transcripts, we at SunTec.AI ensure that the end result of the transcription is straightforward, precise and accurate. Intelligent transcription is a costly process as it requires highly trained, qualified and experienced transcribers. The final product is high on quality as unlike verbatim and edited transcripts, intelligent transcripts are both easy-to-read and comprehend.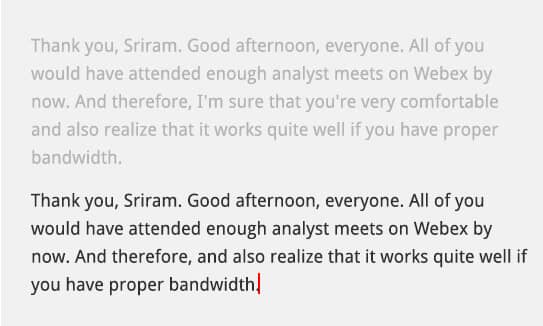 How We Do It At SunTec.AI!
Our experts are proficient at transcribing any type of audio. SunTec.AI follows a 4-step human-driven audio transcription process to provide you with high quality transcripts.
Understanding
To ensure the accuracy, our transcribers first understand the meaning and the true context of the audio. This allows them to maintain the consistency while transcribing.

Transcription
After understanding the audio, the transcribers patiently carry out the transcription process.

Proofreading
Our certified proofreaders go through both the audio file and the transcription to check for consistency and accuracy. Also, our reviewers add time-stamps to the transcript.

Quality Check
A final quality check is done by the Quality Analysts to ensure that the high accuracy standards of SunTec.AI are met. If found short on accuracy or any other parameter, the file is sent back for improvement.

Why Choose Us?
While there are transcription softwares available, no one can deny that human transcriptions are still more accurate. Various studies also corroborate this stand. Human transcriptionists perform way better than transcription software in many cases like when there is a lot of background noise or when people are speaking over one another or when there is the usage of jargon. Our vast experience in the field of audio transcription online has given us a deep understanding of the nuances of this domain. With the experience of handling diverse clients over the years, we've also understood what exactly are the requirements of the client.
ISO 9001:2015 Certified
For Data Quality

ISO 27001:2013 Certified
For Information Security

20 years of
expertise

Cost-effective
Pricing

Scalable
Service

Quality
Assurance
What makes us stand-out:
Two decades of relevant experience
100% human-generated audio transcriptions
Certified and experienced transcription team
Provide transcription services to various audio formats like MP1, MP2, MP3, MP4, OGG, WMA, MPC, MSV, AMR, AVI, etc
99%+ accuracy
Flexible pricing to suit the specific needs of our clients.
Quick turnaround time
ISO 9001:2015 certified for Quality Management
ISO 27001:2013 certified for Information Security Management
24*7 customer support
Discuss Your Project With Us
To discuss your audio transcription requirements and to offload all your audio transcription worries, reach out to us at info@suntec.ai.
Verticals
We understand that the level of detail applied during data annotation directly impacts the overall accuracy and quality of the resultant AI algorithm's predictions.
Let's Upgrade Your Training Data!
We can start on a small batch of images or videos for free.
No hassle and no commitment

Free Sample
WhatsApp us