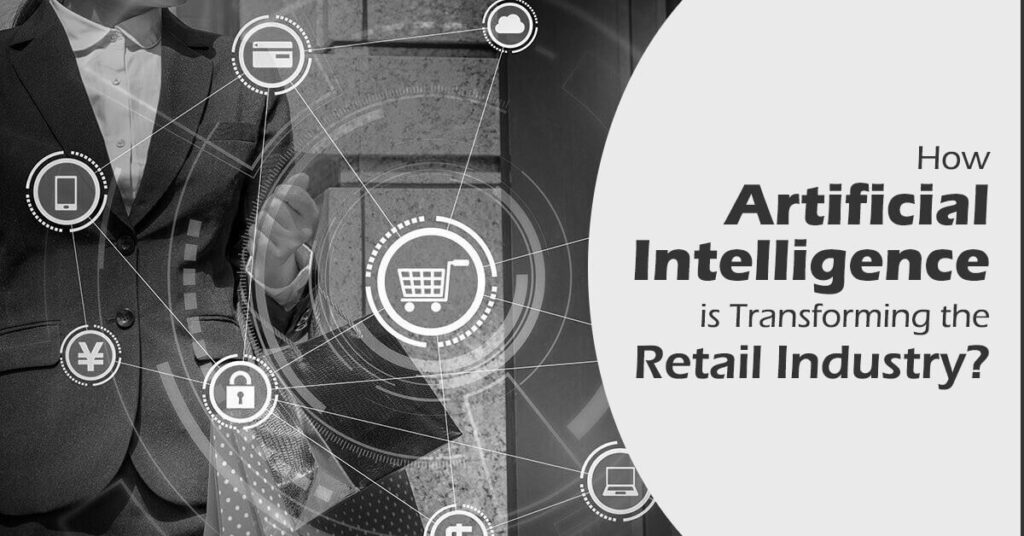 New-age technologies like machine learning and artificial intelligence have positively impacted nearly all the industries, business, and market segments. Experiencing the transformations these technologies have brought, businesses have considerably increased their investments in these technologies.
This mad rush to harness the benefits of AI is justified as the incorporation of AI in their processes enable businesses to reduce operational costs. Reduced operational costs mean better services or products, which ultimately translates into higher growth and profits.
Retail is one such industry which has significantly gained from artificial intelligence. Being one of the largest industries, it has seen many use cases of artificial intelligence. The net effect has been higher profits for retailers, delightful shopping experience for customers, and efficient after-sale services.
AI Effect in Retail – Personalised Customer Experience
Artificial intelligence has brought the personalised experience to customers. Personalised experience drives sales and makes customers come back. AI models are integrating big data technologies, chalking out strategies based on purchase history, customer preferences, and behaviour.
AI has deployed conversational bots in retail. These chatbots automate conversations with customers by mimicking human interaction and providing a superior shopping experience to customers. Conversational bots are fast and efficient in providing information to customers. Unlike traditional ways where users had to hang on to a hold message before customer executives addressed their grievances, chatbots enable users to get straight to the point.
Following are some of the use cases on how AI has brought personalised customer experience in the retail industry:
ChatBots
Chatbots have revolutionised customer services. They enable retail companies to engage with customers 24/7 and offer personalised services and recommendations.
Conversational interfaces have allowed users to give voice commands and carry out activities like product search, shopping, and complaint registry on shopping platforms.
Retail Model Based on Experience
Combining retail marketing and entertainment is known as "retailtainment". Companies are using this concept to drive sales by creating an environment which pushes people into shopping. Use of sound, music, lights, happy ambience, personalised product demonstrations, AR-VR (augmented reality and virtual reality) based shopping stores, and high-tech mannequins are some solutions which retailers use to create the shopping environment.
Automated Cash Registers
One key part which is often overlooked in the retail business is cash handling. Mishandling of it can have an enormous impact on the entire business. Automated self-checkout lanes are today being used in supermarkets, big retail shops, toll-booths etc. It not only speeds up the checkout process but also saves on labour costs.
AI Effect in Retail – Customer Relationship Management
Today retailers have large sizes of customer data. With the help of Customer Relationship Management (CRM) systems, customer-centric strategies are prepared. CRMs generate valuable information on customers like their preferences, behaviour, spending pattern etc.
These valuable insights help in devising elaborate marketing plans and formulate sale strategies. This level of micro-planning helps in shortening sales cycles and automates most of the marketing initiatives.
Advanced data analysis tools help retailers to better understand key metrics regarding business operations, extract path-breaking inputs and revenue-boosting insights. Availability of information enables retailers to make more informed decisions and thus secure future performance.
Another benefit of Customer Relationship Management is that it improves interactions with current and probable customers. Careful analysis of this data on interactions helps companies mend or improve their relationships with customers both current and prospects.
Having an operational CRM system is of paramount importance in today's times as the customer of today is more aware of products and services and wants best customer service.
AI in Retail – Manufacturing
Automation has significantly improved the processes in the manufacturing industry. Robots have created a new but efficient and intelligent virtual workforce. AI has also transformed the monitoring and management in the manufacturing industry.
Today all the heavy lifting, rolling, pulling items from/to shelves, stock movement is done by the specialised robots. Also, incorporation of machines and AI have improved speed of manufacturing, quality of the product, lowered manufacturing costs and reduced the turnaround time.
Similarly, highly smart AI tools have replaced cashiers, this has made the process efficient, fast and less prone to errors.
With more advancements in AI, it is bound to improve the quality of goods manufactured, further increase speed & efficiency of producing processes.
AI in Retail – Logistics and Delivery
AI technologies have significantly streamlined various processes in logistics and delivery. AI has smoothened inventory management and has allowed retailers to entertain on-demand deliveries. Every process in logistics and delivery has been made fast and glitch-free.
Use of AI in inventory management helps in monitoring the supply and demand 24/7, this avoids scenarios of stock depletions.
Last-mile delivery is another advantage of AI, with the help of drones, autonomous vehicles, today deliveries are being done to such remote locations which were inaccessible till a few years back.
Suntec offers comprehensive training data services for AI and machine learning models. Our years of experience, coupled with a highly advanced annotation platform, skilled workforce creates an unmatchable combination. In addition to this our scalable solutions, workflows, and customised services have consistently delivered the most complex of training data projects.
Training datasets provided by Suntec have been used to train retail AI models of some of the renowned supermarket brands around the globe. Our commitment to the task, proven track record and cost-effective solutions make us the most trusted partner in the training data outsourcing arena.