Trusted By World's Best Brands
Providing AI data labeling services to leading technology companies.
On-Demand Data Labeling Service
Develop accurate AI/ML models with data labeling services and data annotation services from SunTec.AI. Outsource data labeling services to our professionals and acquire production-grade models created with state-of-the-art academic benchmarks and quality standards.
Data labeling is a critical part of the machine learning model development lifecycle. It is a subprocess in data annotation and the foundation upon which high-quality, precision-based training datasets are formed. Our data labeling services work in tandem with data annotation requirements to create appropriate, meaningful, and easily distinguishable label sets. Then, a team of professional data annotators, accompanied by the latest AI-enabled tools, use these labels to create a contextually accurate machine learning training dataset.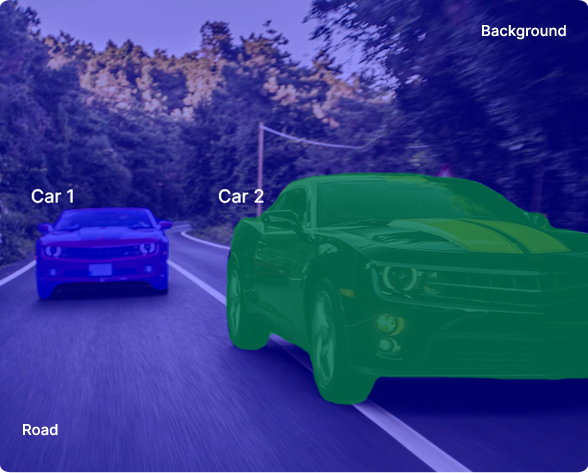 Outsource Data Labeling Services To A Team Of Specialists At SunTec.AI
With broad-ranging data labeling consulting services, we offer secure and synchronous outcomes to all our clients. We adopt a tailored approach to create labels that accurately match client expectations. Additionally, our high-quality label sets are delivered 10X faster, facilitating rapid project scalability without any hassle.
Use-Case-Specific Label Design
10X Faster Dataset Labeling
Quality Assurance Checkpoints
Optimized Label Sets
Multi-Format Label Set Export
Tool-Independent Data Labeling
Build Production-grade AI Models With Comprehensive Data Labeling Services
Get Started
End-To-End AI Data Labeling Services
We manage everything in-house, from building basic label sets and labeling instructions to reviewing the labeled data and exporting it into the client-preferred format.
Labeling data involves several phases, each necessary to create a high-quality dataset. Additionally, text, video, and image annotation projects come with their own set of intricacies. Our capability to cover all of them through a proprietary process and produce accurate outcomes quickly has earned us a place amidst the leading global data labeling companies.

Text Classification
Sentiment Classification
Entity Extraction
Phonetic Labeling

Image Classification
Bounding Box
Bounding Polygon & Polyline
Image Segmentation

Video Classification
Object Detection
Object Tracking
Event Labeling
We Also Offer Comprehensive LiDAR Data Annotation Support
LiDAR scanning (or 3D laser scanning) is a technique to determine variable distances, used to create 3D representations of any environment. 3D LiDAR snapshots benefit various industrial applications. However, LiDAR annotation involves complexities (like low-resolution or sparse spatial distribution), is time-consuming, and requires a professional touch to create worthwhile outcomes. At SunTec.AI, we employ subject matter experts (SMEs) and experienced professionals to perform LiDAR image annotations. As a result, our clients get assured accuracy and reliable datasets in a quick window at affordable enterprise prices.
With 2D and 3D LiDar annotation services, we have helped businesses process data for various projects. These include aerial surveys, agriculture, archaeology, real estate, geology, laser guidance, geomatics, automated driving, automated parking, pollution modeling, and construction.
Unparalleled Customization With Use-Case Dependent Labeling Instructions
Any labeled dataset is only as good as the instructions provided to every labeler working on it. We have manipulated this intricacy to work in a client's favor through an iterative process for creating unambiguous and meticulous labeling instructions. Our data experts review the raw dataset and client requirements before creating appropriate resources for labelers. Then, our labeling experts combine manual labeling with an automated toolset to ensure precise outcomes.
A Propriety Process For Precise Data Labeling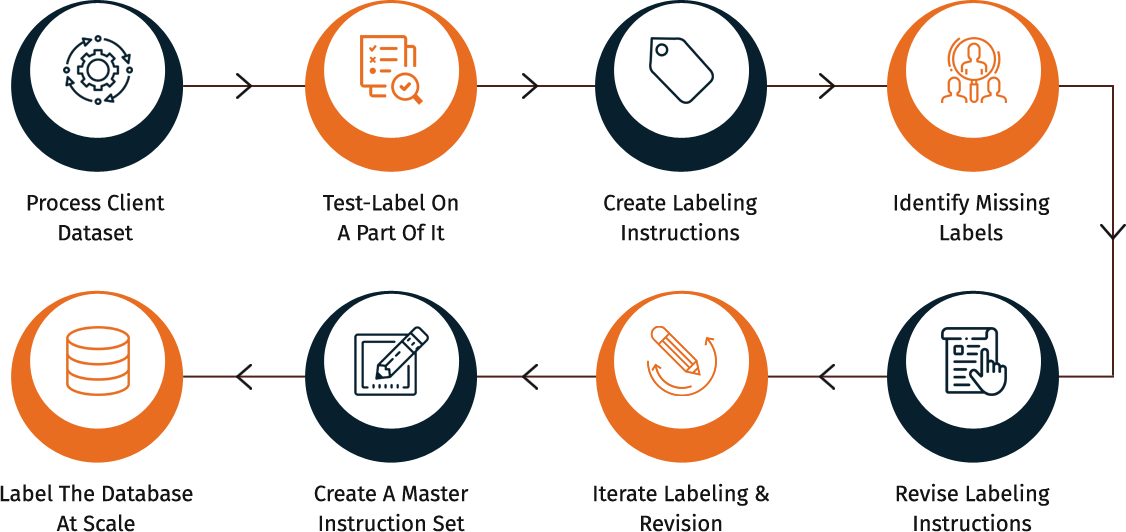 Data Labeling Consulting For Every Industry & Domain
As one of the best data labeling consulting companies, we have helped numerous enterprises with varied outsourcing needs across industries. To achieve such uniformity in the results (despite the underlying diversity in the requirements), we create custom workflows designed to adapt to niche requirements.
Simply upload your data and labeling instructions, and our AI data labeling experts will take care of the rest.
Finance

Healthcare

Automobile

Retail

Restaurants

Technology

Communications

Utilities
Why Outsource Data Labeling Services To SunTec.AI?
Set up your data labeling project without any maintenance or management hassles. Get matched with data annotators and labelers with cross-domain experience and expertise in your niche. Outsource data labeling services to SunTec.AI and get your hands on production-grade datasets within days.
High-Quality Training Data

Affordable Team Scaling

20 Years of Expertise

Cost-effective Pricing

Scalable Service

Quality Assurance
As one of the leading data labeling companies in the USA, UK, and Europe region, we offer more than simple, standalone solutions to our clients. In addition to data labeling, you can also outsource data annotation services (text, audio, and video), classification, data transcription, and sentiment analysis to our experts. Regardless of the service you opt for, we shall ensure the best outcomes within cost and time-effective windows.
20+ Years of Industry Experience
Multilingual Data Annotation Services
10x Faster Data Labeling
ISO 9001:2015 Certified for Quality Management
ISO 27001:2013 Certified for Information Security Management
Round-the-clock
Assistance
Customized Label Sets
Scalable AI Data Labeling Models
Competitive Pricing Model
Outsource Data Labeling Services To A Trusted Partner
Join hands with us and leverage the benefit of comprehensive data labeling consulting services. Develop your AI/ML project quickly and cost-effectively with SunTec.AI.
Get A Free Trial
Data Labeling Services: Frequently Asked Questions
1. What is data labeling?

Data labeling is a process used to attach meaning to an image through informative labels. A machine learning model can use a labeled dataset to comprehend elements and learn to recognize them in other data sets.
2. How much does data labeling cost?

The cost of data labeling will depend on the size of the dataset, the complexity of labels, the number of resources required for this project, and the client's expected timeline. We can create a close cost estimate if you share your requirements with us.
3. Who will label my data?

We maintain a team of professionally trained data annotators for this purpose. Additionally, we employ AI-enabled tools to assist our manual annotation team. Together, they create highly precise datasets quickly.
4. If I outsource data labeling services to SunTec.AI, will my data be secure?

Absolutely. We employ the best communication, data transmission, and monitoring systems to ensure proper data labeling and mitigate all security-related issues.
5. How can I track the progress of my project?

A dedicated project manager is assigned to every client for constant project tracking and reporting. You will receive regular reports through them. You can also raise queries to the manager if needed.
6. How will you ensure quality and accuracy when labeling data?

Like all leading data labeling companies, we maintain a multi-point system of reviewing labeled datasets to minimize accuracy or bias in the annotated dataset. Additionally, several dedicated supervisors analyze the outcomes (label set, instructions, and labeled dataset) to ensure high quality.
See What Our Clients Have to Say...
The team at SunTec.AI provided us with comprehensive solutions for parking detection strengthening, guidance improvement, and smooth communication. This helped us maximize our ROI and streamline the parking experience via real-time images.

The team installed advanced GPS location mapping of Google Maps and Geo-Mapping software to manage sensors located in different time zones using a 24/7 working model. This helped us deliver a smooth, stress-free parking experience to drivers, reduce traffic and emissions, and ultimately increase our revenue.

- Marco, Head of Service Management,
Cleverciti

With SunTec.AI's highly skilled annotation team, we were able to deliver exceptional solutions to one of our clients by efficiently labelling 10,000+ car images, identified dents and further added classification to each dent. The experts took care of all the requirements, and delivered us the project within a quick turnaround time. Thanks team!

- Devesh, Co-founder,
Cvision.ai
BLOGS / NEWS
Latest at SunTec.AI
Let's Upgrade Your Training Data!
We can start on a small batch of images or videos for free.
No hassle and no commitment

Free Trial
WhatsApp us