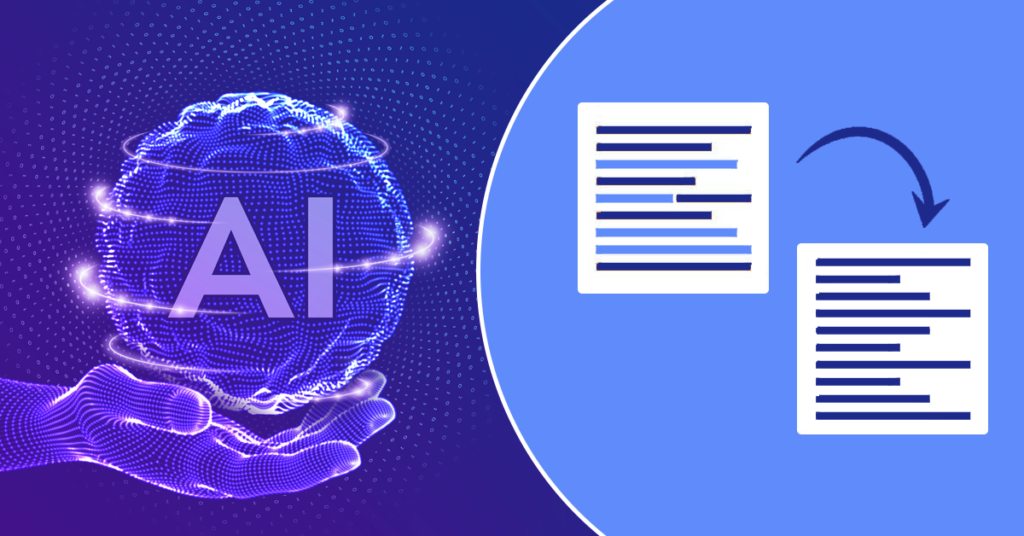 The Next-Gen Text Summarization Techniques
Living a conscious life and aiming for sustainable development should be our focus as human beings. Cutting down on carbon emission is a global objective for the generation. Paper plays an important role in our lives and digital medium can be a great alternative to store data and decrease paper dependency. Text Summarization is one such process that should be adopted for its numerous benefits. The article explains all about this technology and how it can change your life.
Table of content:
The Idea behind Text Summarization
Text is an eminent part of our lives. If observed you will find that a lot of textual data is being created on a daily basis. A major part of this textual data is needed to be preserved for future usage, for various essential requirements.
Here is where the need for Text Summarization arises since the paper has its drawbacks – firstly, a normal piece of paper can negatively impact our ecological balance. Secondly, the paper has limitations relating to storage carrying around and preserving.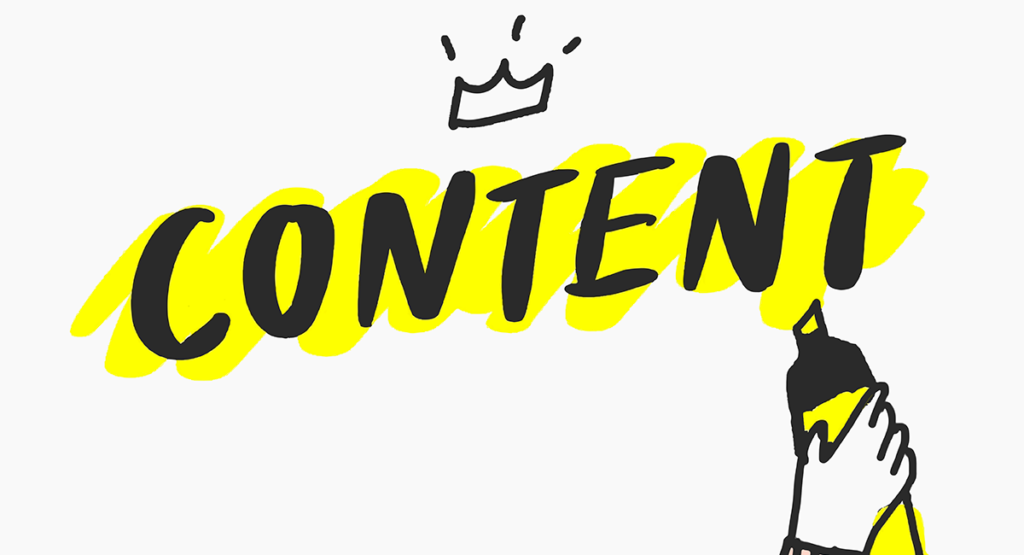 Making efforts to create a synopsis of textual data manually will not only take time but will also have huge margins of human error. It might also involve a good amount of human resource costs. A carelessly summarized text can change the overall objective of the subject, and you might end up losing an important piece of quality information.
The technology of AI Text Summarization can help you retain all the benefits.
Text Summarization What & How:
Text Summarization is the process of encoding textual data into machine language, in the form of a brief synopsis, while retaining the meaning and important information of the document.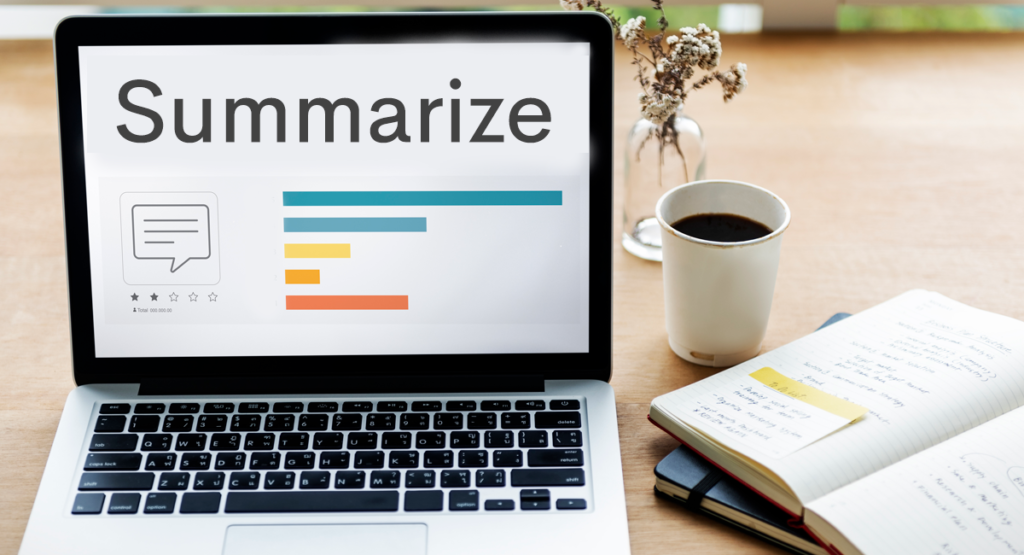 Specifically designed Machine learning programs can read through a document, outlining key information, and generate a summary out of the whole content.
The objective of Automatic text Summarization online is to convert lengthy textual data into a short piece of information.
Text Summarization techniques
On the basis of the technical process used to achieve the objective of text summarization, it can be divided into two styles:
Extractive text Summarization:
This method of text summarization involves extracting prominently informative content groups. The outlined sentences and phrases are then ranked as per their coherence and similarity with each other. Thus the concluding content extract holds only the essential points of the summarized text from the original document.
It's like highlighting the important and most relevant points in a document.
Abstractive Text Summarization:
It is regarded as a much more advanced and complicated form of automatic text summarization technique. Possibly so, because of the complexity of its algorithms.
Abstractive Text Summarization is the process of squeezing out the most important textual data and using a shorter language to explain it. As it rephrases the content, grammatical and other language errors get rectified automatically.
In other words, Abstractive text summarization deals with making meaning out of the whole piece of document and expressing the meaning in an even shorter form.
Industrial usage of summarized data
The process of Text Summarization is gaining popularity across different verticals of industries, with the growth of digital mediums of communication.
Almost all industries are dealing with huge amounts of digital data, consumption, creation, and replication of this data is growingly troublesome for enterprises.
Some of the Industries which need this technology are: 

Financial sector: The finance industry can be one of the major beneficiaries of this technology. Large amounts of financial reports and statistical data drive decisions on a daily basis. Exploring through lengthy content is not possible for stakeholders, so they depend on text summarization to take hold of the zest.
Healthcare: Most of the healthcare system has been digitalized. Beginning from medical reports, online appointments, and consultations to hospital data, medicinal treatments, and research; everything is online.
This data is required for treatments, insurance, research, and improvement in the sector. Online Text Summarization can do wonders for the field. Many enterprises are using the technology to upgrade the system.
Legal sector: Text summarization technology helps law professionals analyze and compare contracts. It also helps the experts from the sector in preparing briefs for legal counseling.
Books & Literature: Another major industry, a lot of whose stakeholders have increasingly become more reliant on the digital medium is Publishing. Text Summarization has helped people understand the synopsis of books, before making the buying decision.
eLearning & training: Many learning lessons are based on case studies and research. AI Text Summarization can help them create more informational content.
Science and R&D: Research papers are the basis of science. A lot of data is being filtered on a daily basis for scientific workings. Text Summarization for Machine learning can be a game-changer for the sector.
Media Monitoring: Digital Media's growth has made it necessary to keep a tab on the type of information being communicated on a daily basis
Growing Need for Text Summarization
Text Summarization is increasingly becoming a necessity in data protection and management. Information is power, it must be protected and saved for all-round development.
Text Summarization is required since:
Imminent piece of informational data should be stored for usage, it's easier to save summarized data as it needs less space.
Summarized data is easier to be read, transfer, and saved.
Text Summarization helps in getting hold of the key information, filtering out unnecessary data
Researchers estimated, approximately 40 zettabytes of data was produced in 2020. Around 5 billion of the world's population, almost 53% are internet users. The upkeep of this data is an issue worldwide.
It is necessary for sustainable development and to reduce carbon footprint.
Summarize Key Information, the Professional way!
Outsourcing data management and AI Text Summarization is a street smart way to manage large amounts of data without losing key information. SunTec AI's Text Summarization, is widely appreciated by partners in the industry since:
We are a team of highly skilled and experienced professionals
Equipped with a large pool of data contributors
Language isn't a barrier for us, we provide multilingual services
Time isn't a worry for you, we provide round the clock assistance
ISO 9001:2015 certified for Quality Management
ISO 27001:2013 certified for Information Security Management
At SunTec AI, our work culture is based on the satisfaction bestowed upon our clients. Specially customized Text Summarization plans and cost-effective pricing is unique to us.
Suntec.ai offers a variety of Text Summarization services – from Handwritten Text Data Collection, Data Cleansing, Extractive Text Summarization, Abstractive Text Summarization, to Multi-document Text Summarization For more information, mail us your requirements on info@suntec.ai or connect with us on +919311468458