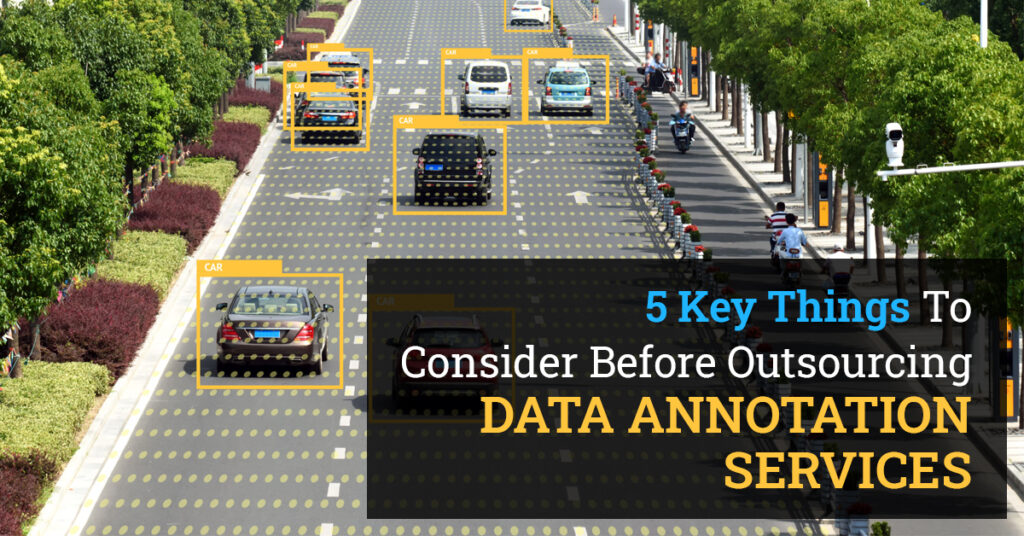 Data annotation also referred to as data labeling, is a process of incorporating vital information into the raw data. Initially, when the data is in an unstructured form, it is not possible for machines to comprehend. So, it is important to tag the data and make it all the more machine-friendly. Data annotation basically helps in setting up a machine learning model to make the machines understand better. The intent is to get accurate outcomes with the data available at hand.
By tagging and annotating datasets with the help of an algorithm, businesses can actually build a model that renders a smart solution. However, all this can't be done single-handedly with so many other critical tasks to take care of. The complexity of this task is high and it calls for a great deal of time and expertise. Hiring a professional data entry expert can help you identify and annotate a particular set of data in order to make it comprehensible for machines to classify the given information. After all, artificial intelligence wouldn't work without access to relevant data sets.
Data annotation makes it easier to feed the right information to the machine learning algorithm and aim for continuous improvement. However, before actually heading towards outsourcing data annotation services to an offshore service provider, you must consider the following points:
1. Quality
It is extremely important that the annotated data is of high quality. Even if you are paying hefty fees for getting your data annotated and labeled, it won't be of any use if the quality isn't up to the mark. Data annotation outsourcing services will give you access to a pool of talented professionals who will utilize their expertise to deliver faster and accurate results. The outsourcing companies are adept at dealing with large volumes of data and maintain higher levels of accuracy and speed. Before assigning the job to an offshore data or image annotation company, you must verify and test their experts. You may want to conduct multiple quality checks for their data annotation work as well as for their workforce management processes. Make sure they have the capabilities to meet the stipulated deadlines too!
2. Scaling Up
The goals and objectives of machine learning projects can vary from company to company. You must know what you want exactly and lay down your specific requirements in front of them. Outsourcing your large-scale data annotation projects to an offshore service provider is a viable thing to do. Utilize your resources in fulfilling your core business goals rather than engaging them in complex data annotation tasks, thereby increasing the growth potential of your business.
By outsourcing, you might as well be able to scale up without losing any of your crucial business data. More so, because your own internal data annotation teams might not be able to handle the complex task of annotation on such a large scale along with their core responsibilities. They have their own time constraints as well as limited knowledge or expertise to carry out the job.
3. Security
Every company would want their data to be safe and secure. Data security, without a doubt, is the prime concern of every firm dealing with critical business data. So, if an offshore company offers stringent data security protocols and relies on accurate and consistent data, you must choose them without a second thought.
Sometimes, companies resist outsourcing data annotation services as they are concerned about the privacy of their data. You must go for a company that addresses all kinds of data privacy issues, including PHI or PII compliance, GDPR, or any other critically sensitive concerns pertaining to data. There are a plethora of outsourcing companies that offer a secure VPN network for work-from-home environments with specifically ISO-certified offerings. In fact, most of the on-site project managers are trained to function within the customers' proprietary tools.
Though you might find it quite tempting to handle all the annotation tasks by yourself, it isn't really the need to take so much pain when you have professional data annotators at your disposal to take care of all your business needs. This might work in the short run till the time your small business turns into a big one and your simple machine learning projects go out of control. Hiring an offshore company that possesses extensive years of experience is the right thing to do.
4. Speed
If you get the annotation work done from an internal team, chances are your work will get delayed due to their core commitment to the company. Annotating a huge number of images isn't a five-finger exercise. It requires a dedicated employee or team to take care of it along with a lot of training. Also, if you don't have the urgency to complete the annotation work, it is still acceptable to not go for outsourcing.
Building a team internally would cost you way more than what you'll pay to an offshore service provider for the same work. So, going for data annotation outsourcing services is the perfect solution to get the job done within your budget and in the stipulated time frame.
Outsourcing companies can easily manage the hiring of annotation experts based on the need of the project. They can manage the workforce, assign the annotation tasks, assure the quality of work and meet the deadlines, all at the same time.
5. Elimination of internal bias
One of the biggest benefits of outsourcing the data annotation job to the right company is the mitigation of internal bias. This is extremely important for companies that deal with critical business data. Bias is inevitable when it comes to machine learning. Internally, organizations may end up making faulty assumptions which may lead to inaccuracy. To counter this issue, you can go for an offshore company and create results that are not prejudiced.
Wrapping Up
We, at SunTec.AI, aim to deliver the best possible results in significantly less time. Our experts have extensive experience in delivering not just image/video annotation services, text summarization services, but a lot more. Hire us to get your data annotation job completed within a quick turnaround time. Get in touch with us at info@suntec.ai.