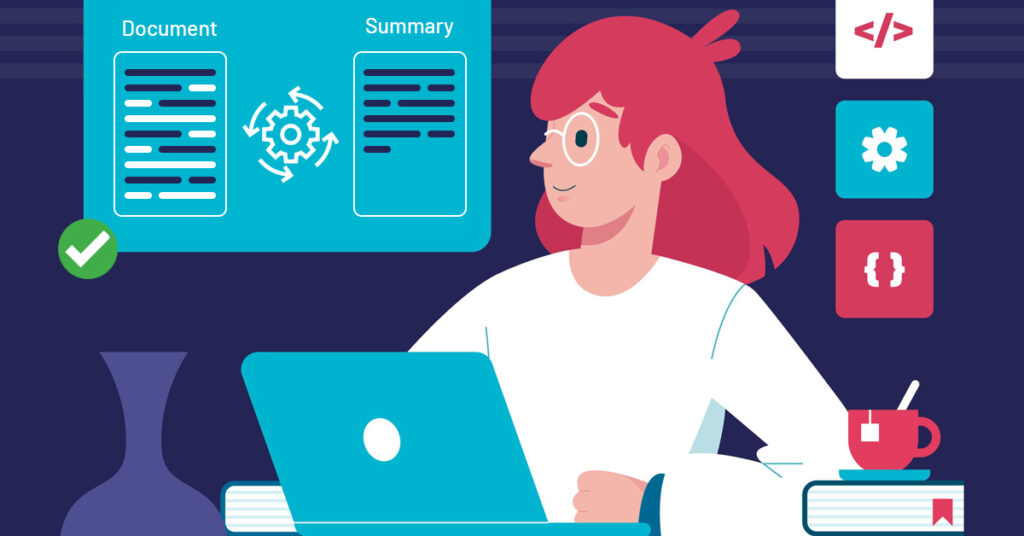 How about using a tool that simplifies the entire process by speeding up the analyzing process and curating valuable, accurate, and relevant summaries without compromising the actual essence of the document. Yes, you read it right! It is possible through automatic text summarization (ATS), it quickly extracts data and conveys short-form content without jeopardizing the facts.
In this blog, we will explain what exactly is automatic text summarization and the need for this tool. Further, we will illustrate the benefits of ATS, and how it is used in various businesses followed by the advantages of outsourcing automatic text summarization services.


Table Of Contents
Automatic Text Summarization in Machine Learning- What's The Hype?
With the growing awareness of Artificial Intelligence benefits, businesses and organizations are designing viable infrastructure to incorporate this technology to reap the most out of the technical advancement. Nowadays, data has become one of the key factors in business growth. Every organization is leveraging data to reach its target audience, boost its sales, and achieve the best results. But with enormous data available online, it isn't manually possible to analyze, sort, and extract information that is suitable for you and your customers.
Hence, automatic text summarization comes into play as it works by leveraging the combination of natural language processing (NLP) and machine learning to extract relevant information quickly and efficiently. Automatic text summarization can be conducted by following two approaches- extractive and abstractive.

Let's move further and understand the different types of ATS.
What is the Need For Text Summarization?
In the current scenario, the digital ecosphere is overloaded with data and information and we get hands-on with them easily. But it gradually becomes difficult to analyze what's significant and what's not among the enormous flow of information as most of the data is unstructured.
For instance, you want to research a topic but all you get is textual data which does not add any value and you end up spending a lot of time before accessing the right info. So, to help you access the correct and relevant data, automatic text summarization is needed. It helps in extracting the data which is useful to the audience which in turn saves your time that can be used to channel in other important activities.
How Automatic Text Summarization Adds Value To Your Business?
Time is an important factor in everyone's life and with an all-decked-up schedule, people do not have time to pursue long-form information. Anything that can be easily read, precise and clear-cut information is what draws individual attention. So, Automatic Text Summarization resolves this by eliminating unnecessary information and providing only the exact data that is valuable to people.
ATS is an evolutionary technique that briefs content loaded with lots of information that may be difficult to go through at once. It basically extracts what exactly needs to be consumed by the readers or valuable for the people (the main info). Further, it doesn't tamper with the central idea of the content and still summarises the whole content without the need for human interruption. Here are some of the benefits of automatic text summarization online:
1. Saves Your Precious Time
The technological advancement has reached beyond our imagination nowadays that you cannot ignore its benefits and also the time and cost it saves can be a huge value to your business. Traditional text summarization needed human inputs to conclude a text version wherein an individual would go through all the content and pull out the main points, hence, more time consumed and less summarization was possible.
Whereas, automatic text summarization combined with machine learning is a bomb combination. It has the capacity of extracting important data and reads up to 5k words in just a few seconds.
2. Compatible With All Languages
You may not be familiar with multiple languages and thus it gets difficult sometimes to summarize content that is written in an unknown language. But not to worry, reap the benefits of automatic text summarization as it can read through all languages in no time. This technology cuts out the cost of hiring an in-house team for translating documents and thus saves huge costs for businesses and companies.
3. Boosts Productivity Level
Do people have time to sit and read a full-fledged document? The answer is subjective. But, nowadays, people are more inclined towards accurate and precise information. Quick information on their way to work, while traveling, or during a lunch break does sound convenient right? Automatic text summarization molds a document in a way that it conveys the important information and shortens the content up to 20-30% thus saving a lot of time. This in turn boosts an individual's productivity level as they can focus on other crucial tasks.
4. Doesn't Tamper With Essential Facts
Traditional text summarization does have the scope of missing out on tiny or essential details as it was solely done by human inputs. But, automatic text summarization blows off the error part and provides people with all the correct data that is beneficial and makes sure not to hamper the facts while maintaining the exact essence of the information.
How ATS is Emerging in Different Industries and Sectors?
1. Media Monitoring
News agencies often face the need of digging through the old articles, but isn't it next to impossible Manually reading all the previous news and then creating a summary might take you months with all the current targets which you need to complete. This is where automatic text summarization comes into the equation, it will extract the summaries of multiple articles in just a few minutes.
How does it work? News articles often contain the main information in the initial statements i.e. the opening paragraph and the headlines followed by detailed information in the middle and the end. So, this scheme has fueled the process of automatic text summarization, as just going through the first few lines, pulls out the core idea of the article.
2. SEO and Content Marketing
The importance of Search engine optimization and content marketing is not hidden and is the most growing area nowadays. Any business is incomplete without the implementation of SEO and content. And the only way to stand out in the market is to deliver something new. It is only possible by analyzing what your competitors are offering but that's quite a task because there's an ocean of content online and going through each content piece is just impossible manually.
Automatic text summarization boosts this process as it helps you sort out different content and provides with you precise information that is effortless to read and understand.
3. Financial Research
Finance and investment is one such industry where data plays a huge role and individuals have to constantly deal with enormous amounts of information. So, the scope of error comes down to zero, and to achieve error-free summaries, automatic text summarization can help. Financial documents, graphs, or any related data need to be summarized accurately without compromising the actual facts, and the best way to do so is through automatic text summarization services.
4. Chatbots and Autoresponder
You might have encountered chatbots or autoresponders on various websites or apps, they solely work using natural language processing (NLP) and machine learning for auto text summarization. The human intervention turns to zero as the chatbots interact with the customers and provide the exact information they need without the need for human interference.
5. Dispersing Content Through Social Media
To stay ahead in the digital ecosphere, businesses need to target or access their audience through different channels and social media plays a vital role here. To raise awareness about a product/service, one has to create resources like ebooks, newsletters, blogs, or white papers.
Also, considering the audience, very few people go through long-form documents online. Most of the individuals just scroll and have a glimpse, the shorter the better. So breaking the information by using automatic text summarization services can be worth it if you want to target your audience on social media.
6. Remote Working and Video Conferencing
Considering the name, you might be surprised that automatic text summarization not only works in extracting text summaries but it can also extract summaries from video or audio conferences.
It has turned out to be the most beneficial application of text summarization during the lockdown period where most of the employees are working online and most of the vital meetings are organized virtually. It becomes challenging to remember everything said virtually so through a text summarization tool, you can get all the important notes from the meeting without having to spend time manually doing the task.
7. Newsletters
Newsletters often have a separate section that includes short-form articles that were once used to be long-form. Therefore, automatic text summarization services can help organizations in curating the summaries quickly and efficiently to enrich customers with easy-to-grasp information.
8. Question answering bots
Personal assistants and smart homes have simplified our lifestyle and we cannot agree more with it. But considering the limitations of these tools, automatic text summarization is taking up the digital ecosphere by answering questions through bots on a bigger scale. The application gathers huge amounts of data from multiple sources to answer every query in a factual and summarized way.
9. Medical cases
Online businesses have taken a toll and the health care sector is not lagging behind. With various pharmaceutical apps, apps that allow patients to interact with doctors one on one, and much more advancements, the telemedicine network is growing vigorously. Not to forget, healthcare apps need to maintain transparency with customers and have to be easily accessible.
To achieve a highly scalable app and run them smoothly, automatic text summarization is very crucial as it works to gather all the medical data, analyze patient history and route them to the right professional.
10. Books
For authors who want to sell their books on different online platforms but want to avoid the hassle of writing summaries every time, automatic text summarization services can help. The tool just scans your book in minutes and curates a relevant summary.
11. E-learning and class assignments
Online classes are the modern teaching method and simplify every teacher's task. The automatic summarization tool will help you prepare summarized reports from case studies, research reports, news articles, etc.
12. Science and R&D
Creating a research paper is a time-consuming task, where you constantly have to keep an eye on every tiny detail. So, to simplify your job and save time, automatic text summarization services can curate summaries for your abstract.
13. Assisting Hearing Impaired Individuals
Automatic text summarization has proven to be very beneficial for people with hearing impairments. As the tool summarizes long-form content in a crisp manner and conveys information that is easy on the ears.
Multi-Document Summarization Made Easy With Our Reliable Automatic Text Summarization
Automatic text summarization in machine learning has the potential to gather information, analyze and curate the most important data in just seconds. Many companies often end up collecting data but it is a waste if you are not able to channel it for your business growth or profitability.
Hence, SunTec.AI offers top-notch text summarization services to structure your data that is beneficial to you as well as your customers. Depending upon your project and specifications we use one of Term Frequency-Inverse Document Frequency (TF-IDF), Cluster-based, Graph-theoretic approach, Machine Learning approach, Text summarization with neural networks, and Automatic text summarization based on fuzzy logic methods.
Conclusion
Loads and piles of data are uploaded online every second and thus it becomes challenging to identify which one is important for you or your business. So to extract relevant information and summarize it, you need to opt for Text Summarization Services. Our services are custom-designed to generate appropriate and accurate training data for your machine learning algorithm.
We also offer Handwritten Text Data Collection, Data Cleansing, Extractive Text Summarization, Abstractive Text Summarization, and Multi-Document Summarization Services. For more details, get in touch with us at +91 931 146 8458 or write to us at info@suntec.ai.